Church pews emptying in America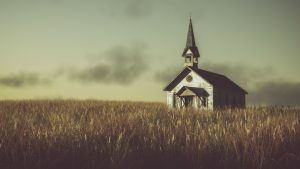 The regular "Sermonette" column Saturday on my local newspaper's "Religion+News" page subtly reflects a growing disinterest in Christian faith in the United States. Church pews are clearly emptying.
In the Mitchell (SD) Daily Republic article, titled "Time and God are on your side," local pastor Rev. John Short reminded readers of the 365 days and 8,760 hours that will comprise 2018, clearly a generous expanse of time. He used it as a hook, encouraging folks to invest just one short hour of that long span to attend church each week.
It's a reasonable request if you're a member of the clergy. But, barely visible between the Rev. Short's lines was a deep worry: Churchgoers are disappearing from congregations all over America—Protestant, Catholic and "other," including, presumably, from his own church.
In the past several decades, the nation's long-robust devotion to faith has sagged deeply. Today, a quarter of the population is unaffiliated with religion, a trend occurring not just in the United States but throughout the developed Western world.
Short reiterated in his column the importance of "healthy living and other daily planning" in achieving success during the year, adding that "spiritual health is critically important also. … [connecting] us to God now and forever." Since "God often works in ordinary events," the pastor noted, regular attention to Him and his "Word" is essential for general happiness.
"If we stop and think about it," the Rev. Short wrote, "going to church on Sunday to praise and worship God with other faithful is reasonable and healthy."
Certainly, for many churchgoers their Sunday gatherings with likeminded people are communally satisfying, emotionally healthy and even uplifting experiences, whether or not the foundational doctrines of their faiths are verifiably true. But recent research into American faith strongly indicates that a lot of us are quickly growing less and less enamored of religious doctrines in general.
And, as in politics and business, people vote with their feet. In the case of religion today, that means fewer and fewer people are walking into churches and filling pews.
Certainly cognizant of this, the Rev. Short is spotlighting the relatively tiny amount of time required (52 hours a year, or only half a percent of all our time) for us "to pause so [God] can bless us."
"What a bargain!" the Rev. Short exclaims.
But, still, he laments in the article, many people still can't seem to find the time.
Please follow and like us: